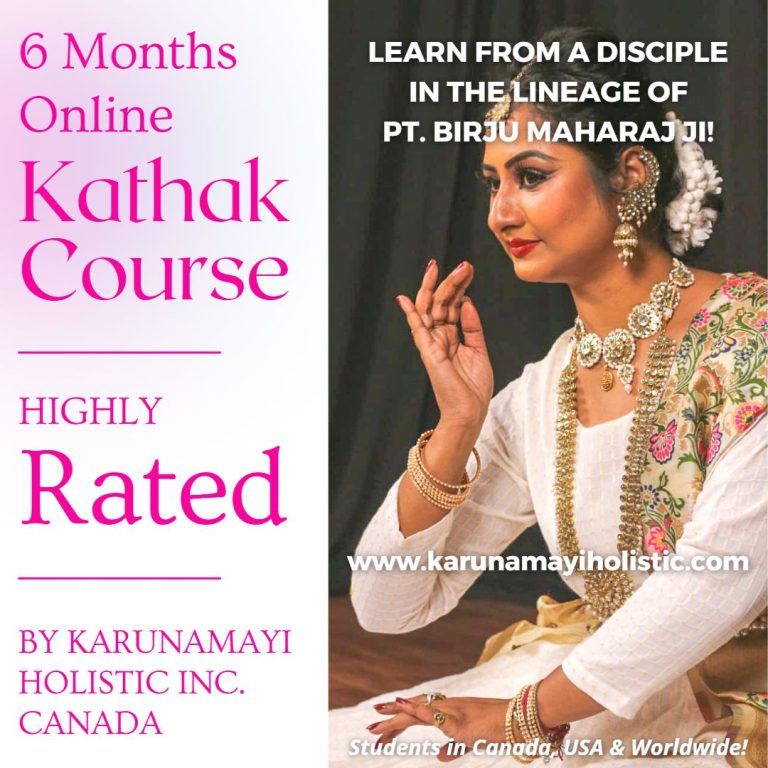 6 Months Intermediate Kathak Online Course by Payel
Message Us for Fees!
Please share with us your contact details for a discussion and to receive the fees details.
Karunamayi Holistic Inc. Canada has Kathak students from Canada, USA and around the world.
Students can join our ongoing 6 months (once a week class) online course from the beginner level or intermediate level (this course) to learn Kathak by a highly trained and expert teacher of Kathak in India.
Teacher Payel is the disciple of renowned Guru Vidushi Mamta Maharaj ji who is the daughter of Padma Vibhushan Pandit Birju Maharaj ji.
Payel has an M.A. (1st Class) in Dance from Rabindra Bharati University in 2009. She started learning Kathak at the age of 7. She has 12+ years of teaching experience and has performed across India and also internationally. She speaks very good English and teaches very well online. She teaches in a spacious studio with good lighting and audio so that she can come close and step away from the camera to teach the details well as required.
Course Level: Intermediate
Course Syllabus:
1. 16 angas of kathak
2. Patterns of chakkar
3. Layakadi and padhanth on tritaal
4. Guru Vandana
5. Pranamai tukda
6. Tukra (2)
7. Tehai (2)
Progress & Recognition: Certificate will be provided to those who pass the Internal Exam with Payel at the end of 6 months. Taking the exam and getting the Exam Passed certificate is optional.
Payel will also help the students to register for the Prayag Sangeet Samiti / Gandharva Mahavidyalaya board exam who will pass the internal exams. The students should first complete Two 6 Months courses with Karunamayi Holistic Inc. and pass the internal exam conducted by Payel at the end of each course to prepare themselves well for the board exam. Please note the fees for board exam registration is not part of this course.
This will be a great course for people who wish to advance their level in Kathak, a style of dance from the East Indian culture and increase their creativity.
Disclaimer!
Our company including through our website, social media, prints or any other activities never gives any medical advise. All our content is for information purpose only and they are not to replace any conventional allopathic treatment. For any of your concerns, please contact your primary care physicians or for Ayurvedic help, please contact Ayurvedic doctors directly.