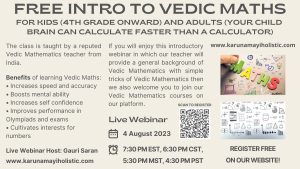 Webinar: Free Intro to Vedic Maths for Kids and Adults
Register for Webinar!
Date: 4th August 2023
Time: 7:30 pm EST (Toronto Time), 6:30 pm CST, 5:30 pm MST, 4:30 pm PST
Note: Check your Spam folder if you don't see the email in your Inbox. We email the Webinar's Zoom details from contact@karunamayiholistic.com right after you submit the below form.
Webinar Summary
Free Introduction to Vedic Mathematics for Kids (4th grade onward) and Adults (Your child brain can calculate faster than a calculator).
The class is taught by a reputed Vedic Mathematics teacher from India.
Benefits of learning Vedic Maths:
• Increases speed and accuracy
• Boosts mental ability
• Increases self confidence
• Improves performance in Olympiads and exams
• Cultivates interests for numbers
This webinar is free to attend. Please register through the form on this webpage and we will email you the webinar Zoom link.
Disclaimer!
Our company including through our website, social media, prints or any other activities never gives any medical advise. All our content is for information purpose only and they are not to replace any conventional allopathic treatment. For any of your concerns, please contact your primary care physicians or for Ayurvedic help, please contact Ayurvedic doctors directly.